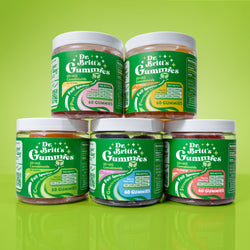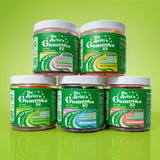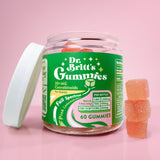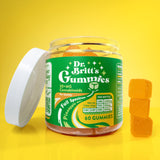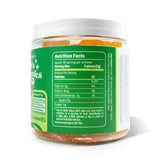 Truest Hemp
DR. BRITT'S CBD GUMMIES
Infused with 25 mg CBD per gummy and over 1,800 mg of full-spectrum cannabinoids per bottle. These CBD gummies are a viable solution to relieve stress and anxiety, allowing you to soothe your mind. Gummies come in handy if you're looking for an easy option for taking your daily CBD. It's convenient to use and is highly effective.
Highlights: 100% Full Spectrum Hemp, GMO-Free, Physician Formulated, Third-party Lab Tested
Per Bottle: (60 Gummies Per Bottle)
1,500 mg CBD
100 mg THC
262 mg CBC, CBG and CBT
Total Cannabinoids: CBD, CBC, CBG, CBT & THC
Directions: Take one gummy twice per day.
Active Ingredient: Full-Spectrum C02-Extracted Hemp
Made in USA  |  Certificate of analysis
Must be at least 21 years of age to order from TruestYou.com
See physician prior to use if pregnant or nursing.
Keep away from children.
This product is not intended to diagnose, treat, cure, or prevent any disease.
Product info hasn't been evaluated by the Food and Drug Administration.
Storage: Avoid excessive heat, light and humidity.
This product is not labelled for sale in the state of CA.
All products contain less than 0.3% delta-9 THC.
Here at TruestYou, we take a great pride in the quality of our rigorously-researched physician formulated products, but in the case that you find the formula you purchased doesn't agree with your body's chemistry, or if you feel dissatisfied for any other reason, we offer refunds within 30 days of your purchase. We have to include some basic restrictions to our return policy, those of which you can
read here
, but for the most part, unhappy customers are refunded 100% of their purchase.
**The following testimonials are not a representation of TruestYou. This product is not intended to treat, cure, or prevent any disease.**