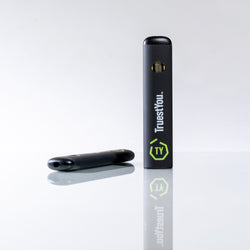 TruestYou
*NEW* THC Disposable Vaporizer
Highlights: Broad Spectrum Hemp, Physician Formulated, Third-party Lab Tested
Blueberry Dream Flavored with Natural Cannabis-Derived Terpenes
94% Delta-8 THC
Additional Cannabinoids (CBC)
Full Gram (1g)
Live Resin Hybrid
Sativa-Dominant
Directions: Inhale 1-2 times, repeat as needed.
Ingredients: Broad Spectrum Hemp - Natural Plant Terpenes 
**WARNING** This product contains psychoactive hemp-derived Delta-8 THC, which may affect blood pressure, heart rate, and/or intraocular pressure in some people. Please read the entire package before use, and follow proper use instructions.
Must be at least 21 years of age to order from TruestYou.com
See physician prior to use if pregnant or nursing.
Keep away from children.
This product is not intended to diagnose, treat, cure, or prevent any disease.
Product info hasn't been evaluated by the Food and Drug Administration.
Storage: Avoid excessive heat, light and humidity.
This product is not labelled for sale in the state of CA.
All products contain less than 0.3% delta-9 THC.
Here at TruestYou, we take a great pride in the quality of our rigorously-researched physician formulated products, but in the case that you find the formula you purchased doesn't agree with your body's chemistry, or if you feel dissatisfied for any other reason, we offer refunds within 30 days of your purchase. We have to include some basic restrictions to our return policy, those of which you can
read here
, but for the most part, unhappy customers are refunded 100% of their purchase.
**The following testimonials are not a representation of TruestYou. This product is not intended to treat, cure, or prevent any disease.**